Drown yourself in their culture for seven days straight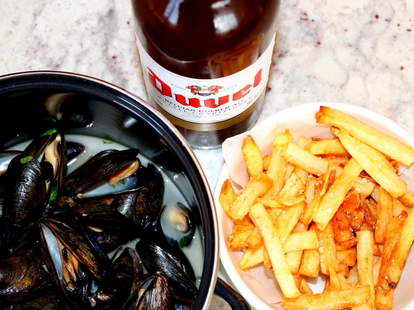 Belgian Independence Week is all about freedom… to continue knowing nothing about their early-19th-century secession from the Netherlands, whilst blissfully drinking their tasty beers. And since Mpls's 2nd annual cele-brewtion is already in full, wobbly stride, we asked cicerone Rob Shellman -- the president & founder of the Better Beer Society -- to lay out a suds syllabus that'll leave your knowledge as bloated as your belly. Prep your friends and liver for
Monday: The Belgian flight at Acadia Cafe is the perfect place for a quick overview of the country's "complex and wonderful yeast strains, malts, and hops". $15 will nab you six tastes of major styles like rich, darkly fruity Dubbels, bright Tripels ("sometimes clove- or banana-like"), and crisp Wits (these are the ones with orange peels)
Tuesday:Bulldog Lyndale's got "Half Priced Belgian Night" with special release taps for $5. Or, "if you're a trust fund kid", congratulate yourself with a celebratory $100 bill-burn, then hit Buster's on 28th for Liefman's Goudenband (a cellared sour oud bruin), which hasn't been tapped in Minnesota in five years
Wednesday: St. Arnoldus Day! Hurrah! (?) Celebrate (?!) with Pig & Fiddle's paired five-courser ("Belgians don't pair beers with their food; they pair their food with their beers") hosted by Minnesota's only beer knight, presumably a knight who walks around saying "Neee...d more Belgian beer?"
Thursday: This is sort of an anti-Belgian Independence Week event, actually. Dutch spot Amsterdam Bar & Hall still isn't over the secession, so they're staging a 10-day semi-protest, stocking taps with half Belgians and half Dutch beers
Friday: Happy hour only, Grumpy's NE will throw you free steamed mussels made with Ommegang's Hennepin ale. Rob asserts "Saying you participated in Belgian Independence Week without eating 'moules-frites' is like saying you've been to the State Fair without eating something on a tiny wooden stick." And, equally fairly, "Bring your own damn fries.
Saturday: You're a real boozehound, huh? Alright then Chuggy McGuzzlesnatch, why not top things off with a true Minnesotan take on a Belgian, and hit Tiffany's to enjoy Summit's release of a Flemish-inspired ale as part of their series called "Unchained" -- ironic for a week you just spent completely behind bars.