Park it in the retooled Garage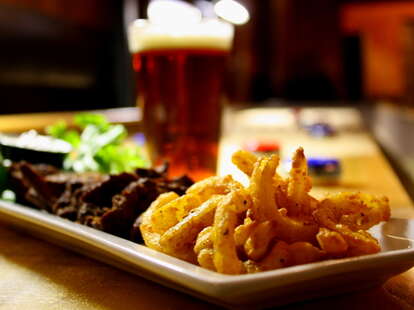 Generally, going from a garage to a shanty is at best a lateral move -- which, by the way, is impossible in all but the roomiest garages & shanties -- until now, thanks to the Shanty at O'Gara's. A total upgrade of the former Garage concert venue, Shanty's lined with classic beer signs, enormous flatscreens, shuffleboard, and a retooled bar space that'll now be serving crafts and a menu of their "State Fair Apps", which're also handy if you need to know where the closest toilet to the Miracle of Birth Center is. Go to (shanty) town on:
Beer: The upgraded list includes handsome, lawnmower-worthy tallboys like High Life and Grain Belt Big Friendly; plus there'll be 15 crafty taps (Odell IPA, Tallgrass Buffalo Sweat, and Boulevard Tank 7) on a large bar that previously just housed a few big labels, so they must have been really enormous labels.
Food: Necessary bar staples will include burgers from O'Gara's main menu (highlighted by the Southwestern and the Bleu), plus the aforementioned State Fair-y offerings like onion rings beer-battered in Schell's Firebrick, deep-fried pickles, and deep-fried green beans called Blarney Beans, which'll lead to you putting on at least a stone.
And because the only thing better than downing brews and deep-fried pickles is doing so as part of an elite clique, you can also join The Koozie Club by buying a $1 beer sleeve that'll entitle you to $3 tallboys, who someone should warn to not try and stand up in any shanty other than this one.