The best sodas since Mexican Coke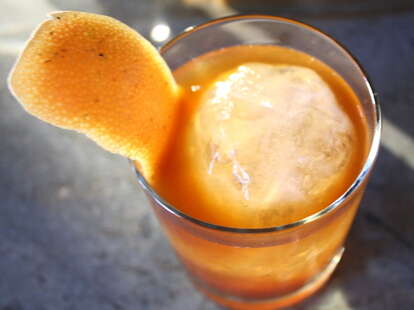 A regally appointed, new craft-cocktailin' eatery from the Nordeast Social fellas, Eat Street has refitted the former Taco Morelos & Caterpillar Lounge spaces with heavy oak and granite, large booths aplenty, and inventive drink creations courtesy of a bar staff who also own craft bitters company Bittercube, also how to describe Ice's jealousy towards Ice-T and his non-TBS shows. Be among the first to:
Drink: Major distilleries mostly get the cold shoulder in favor of craftier booze for drinks like the Luxardo Grappa/ Averna Amaro/ Bittercube Ginger Liqueur/ Angostura "The Guardian & The Spectator", and the tea-infused Broker's Gin/ Bittercube Winter Tonic/ lime/ seltzer "Tea & T", aka the name of a new show that will make Cube even more bitter, and feature T just sippin' Earl Grey like a boss.
...Drink More: Spewing forth from a custom soda fountain (just one handle, but still...) that allows oodles more carbonation than a piddly soda gun, their "phosphates" were presumably named by someone who got at least a three on AP Chem, are made with citric acid, and come in a handful of special concoctions like the cocoa nib syrup/ whole milk/ seltzer/ pretzel "Bronx Egg Cream", and the ginger syrup/ cream/ seltzer "Ginger Yip".
And even though they don't have a sweet custom gun that shoots out fully prepped food, they do have the same type of seasonal small plates and entrees you know and love from Nordeast Social, as they'll share that spot's executive chef -- though for one guy to run two kitchens, he must be way, way cooler than Ice.