Calvin Klein having already established Obsession's ability to make people drunk with lust, a Minneapolis man is now proving its ability to make people actually buzzed, after an "obsession" with Belgian beer prompted said owner of now-opening Boom Island Brewing Co. to embark on an epic hajj to 13 breweries across that country. Returning with nine strains of yeast from the breweries themselves, he's tinkering in a Warehouse District facility that's constructed from scratch (dude even got certified in TIG welding), faces the old Grain Belt brewery across the river, and uses "pure Minnesota water" to craft:

Silvius Pale Ale: Inspired by a mythical, giant-killing soldier, this dry-finishing, "gold medal-winning pale ale will slay you" with a depth of flavor described as "palate-boggling", despite the fact that drinking it will actually decrease your ability to think of big words.

Thoprock IPA: Named after a heavy metal festival in Belgium, this mega-hoppy 7.8-percenter rocks so hard that it might even "make you cast aside your clothing and dance naked in a field".

...The Other Two: These higher-ABV first batches are currently brewing (available to the public in a jiffy), and include the 9.5%, golden Brimstone Tripel, and the 8.5%, darkly malty Hoodoo Dubbel, described as "spicily aromatic", presumably in a sexy French whisper. Hoodoo Dubbellll...
Previous Venue
Next Venue
Venue Description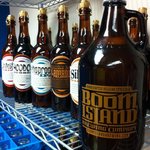 1. Boom Island Brewing Company
2207 N 2nd St, Minneapolis, MN 55411 (Downtown)
Using several strains of yeast straight from their source breweries in Belgium, Boom Island crafts authentic Belgian-style beers that push the boundaries of traditional brew-making. Stop by for a free tasting, or to purchase any of the six Boom Island beers onsite at the brewery.