Why purify yourself in the waters of Lake Minnetonka when you can debase yourself with the beers of Lake Minnetonka? Specifically, with those from Excelsior Brewing Company, Tonka's first full-production brewery

Just opening for biz, EBC's filled an open, white-washed, alley-side warehouse on Water Street with giant beer tanks ready to get you beer-tanked via take-away growlers of their three-strong lineup

Bridge Jumper IPA: Named after the area kids' fondness of leaping off railroad bridges into boat channels, their debut brew's a caramel-colored "teeth kicker" at 8% ABV

XLCR Pale Ale: Slightly less alcoholic, this light, hazy yellow, citrusy-bitter pale will debut within the week, exhibits outright scorn for vowels, and looks to be their flagship brew due to it being highly "sessionable.

TBN Blonde: The first batch of this yet-to-be-named blonde just started the brew process (hopefully it'll be ready by next week) so they're not exactly sure what's going on in there, much like a confused, soaking wet Apollonia.
Recommended Video
The Definitive Eggnog Recipe You Need for the Holidays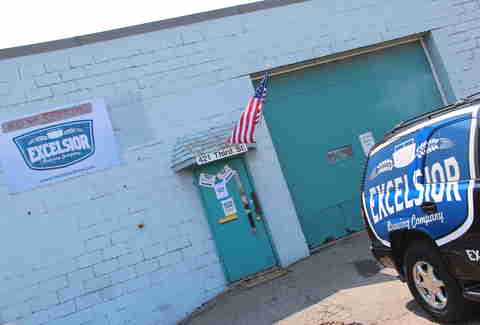 Previous Venue
Next Venue
Venue Description
1. Excelsior Brewing Company
421 3rd St, Excelsior , MN 55331
Excelsior's got a lineup of four no-nonsense brews, which means that you'll have plenty of time to sample each one before deciding on your favorite. Once you've picked a champion, fill your growler to the brim and take a tour of this Lake Minnetonka-inspired brewery.