Sit, drink, and pedal like hell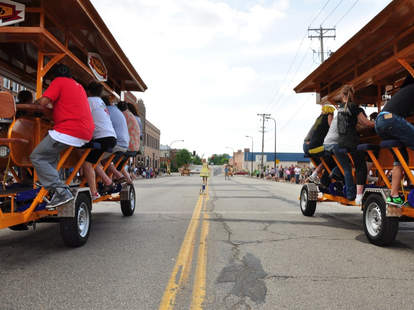 If you're already off the wagon, you might as well get on the beer-fueled group bike, at the Northeast Pedal Pub Races. Accepting sign-ups now for next Sunday's event, the contest will pit some 40 teams against each other in head-to-head, "fast and furious sprint races" aboard suds-dispensing pedal pubs, so yeah, expect some drifting. Here's the quick and dirty
The sprint runs from 1st Ave NE to East Hennepin and back, where throngs of boozed-up onlookers will cheer and do that awkward soft clap you do when you have a beer in one hand.
There'll be live music, Chef Shack grub, and New Belgium brews at a cash bar.
Choose between 12-3p or 3-6p sessions. Either way, your team's guaranteed at least two races, though due to our city's admirable cultural diversity, there'll probably be way more.
Winning teams in each sesh'll take home a beach cruiser and an armload of New Belgium swag, but everyone gets a free pair of shades.
It's $150 to register your team of 8-10 peeps, at least four of whom must be female.
They'll knock $30 off if your team picks up your pedal pub, which's like paying you $30 to drink longer.
Oh yeah, and since it wouldn't be a weird, pseudo bike race without weird, pseudo bike race costumes, you're highly encouraged to deck your team in crazy, theme-y outfits that'll be judged, unlike you for being off the wagon.