And by Pig & Fiddle they mean beer and more beer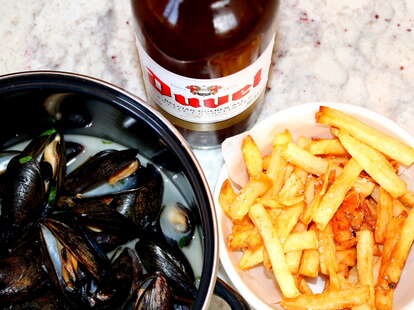 After helping St. Paul see double for years, the man behind beeropolis Muddy Pig is now seeing twos himself with the opening of his first westside jam: Pig & Fiddle, which's stocking a mega-impressive suds stable in the former Pearson's 50th/France digs, and plating "rustic" eats amongst dark wood trimmings and a massive fireplace -- so yeah, get stoked.
The highly descriptive beer menu stocks more than 14 Belgian bottles, with hits like Cantillon Organic Gueuze, and Rochefort 10 from one of the handful of Trappist monasteries still brewing; there're also 36 taps like New York-wrought Southern Tier 2XIPA, Saison Dupont from a Belgian brewery that's also a working farm, and BrewFarm Matacabras, which's Spanish for "the wind that kills goats" -- actually, a less stupid concept than that movie where George Clooney does it with his mind.
The old-timey tavern menu offers peculiar tastiness like Welsh rarebit (an 18thC poor-man's rabbit substitute), mussels steamed with Wittekerke beer and bacon, a sole stew, and pan-sauced "peasant chicken", which's strange, as most peasants get way braver when sauced. They're so unrefined!
Interestingly, for peasants, there's also a separate, more pedestrian beer list found under "other options", with big-name brands and light lagers, which is sort of nice if you're looking to save money, and just see double digits when you look down at your hand.