The distinction between a brewery and a brewpub can get a little blurry, especially if you've just spent some time at a brewery or a brewpub. So to be clear: while the Twin Cities have seen tons of craft breweries popping up, Northbound Smokehouse is definitively the first brewpub to open in Minneapolis in more than a decade

The 38th St Station joint's a full brewery in the back and a bar/ resto up front, with a custom-made oak bar anchoring a 56-seat, wood-filled dining room with expansive floor-to-ceiling windows that look out onto a patio, perfect for enjoying

Beer: Their draft/ growler arsenal's brewed by a Town Hall vet. For now the bar's pouring six guest taps, and from their own stock, two rotating seasonals and four full-time house brews, including an American wheat made with wild flower honey, the 7.2% Big Jim IPA, and the more complex Smokehouse Porter, which is also who they'll send for your bags if you drink too much and need to stay over

Food: The almost-exclusively handheld eats center around local, house-smoked proteins including the Smokehouse Platter (trout, salmon, whitefish dip, and smoked cheese), a shredded pork sammie, an intriguing smoked trout wrap (w/ green apples/ Havarti/ dill mayo), and a fried chicken 'wich dipped in waffle batter, just in case you were tired of your ankles being distinct from your calves.
Recommended Video
Sriracha Bacon Onion Rings Bring the Heat Like Never Before
Previous Venue
Next Venue
Venue Description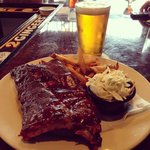 1. Northbound Smokehouse and Brewpub
2716 E 38th St, Minneapolis, MN 55406
Regardless what direction you're heading, you need to go Northbound. This resto/on-site craft brewery churns out house-smoked meats for fresh sammies and offers a vast selection of brews to wash em' down, in a large and friendly environment complete with bar seating, tables and an outdoor patio for the warmer months.