Craft beer store gets huge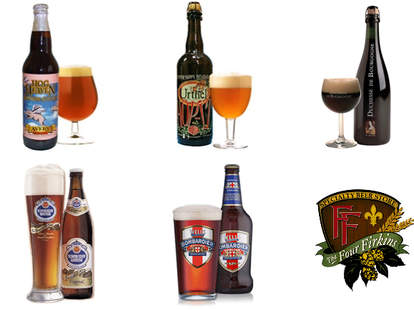 Like the bloated beer bellies of anyone who frequented their first location, craft brew pioneers The Four Firkins are busting out big time, opening an expansive St. Louis Park space that dwarfs the original with a MN brewing mini-museum, a sampling bar, total sun blackout for beer purity, and an old-timey-England-inspired checkout area they call the "Abbey Register", clearly after the daily newspaper whose sole headline is always "Monk continues to have no comment".
They've got a revolving stock of hundreds of beers categorized into more than 40 varieties, but some of the rarest and coolest include:
Avery Hog Heaven: This "dangerously drinkable" 9.2% ABV barleywine/strong ale comes from a Boulder brewery so into hops that they've created...the "Society for the Pursuit of Hoppiness".
Urthel Hop-It: A pale golden Belgian strong ale, this beast is brewed with one malt and three hops, and has a taste described as "intoxicatingly bitter", but that's probably just because it wasn't accepted into the Society for the Pursuit of Hoppiness.
Duchesse de Bourgogne: This traditional Flemish red ale is said to have hints of passion fruit and chocolate, and comes from a 136yr-old Belgian brewery that resides in a "castle-farm", also where they grow witty mystery writer detectives.
Schneider Weisse: From a sixth-generation German brewer that's only ever done wheat beers, this amber/mahogany-colored Weisse has an aroma of clove and nutmeg apple that "tantalizes the nose", or what Tony Montana calls "a sales pitch".
Wells Bombardier: The crown jewel of a British brewery started in the 1880s by a retiring merchant navy man looking to trade high seas for high times, this deep copper English bitter is derived from a hop called the "English Challenger".
And if paltry bottles of suds aren't enough for you, the new and improved Firkins'll also be stocking kegs that are priced and itemized so that unlike your feet, the mark-up is clearly visible.