Drink unlimited beer, then literally swim in 250 gallons of it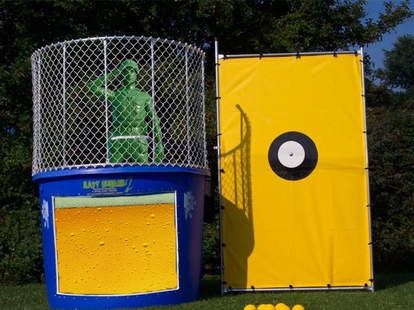 You know those brew-fests that promise you'll be "surrounded" by beer? They're all using what people in the business call "hyperbole", except for Saturday's St. Croix Valley Brew-B-Que, where you'll have the chance to actually submerge (/drink/cry-tears-of-joy) in a giant dunk tank of Lift Bridge suds
Stillwater's inaugural guzzle-fest asks just $18 for all-you-can-drink Lift Bridge, live music, a BBQ cook-off, chicken races, and access to the aforementioned tank, about which some more facts follow
It holds between 250-300 gallons of beer, which's roughly equivalent to 16 kegs, 2667 12oz bottles, 444 six packs, or 1/3 the amount demanded per show in Kid Rock's rider.
Anyone can step right up and get dunked for $10, but rights to the pristine first dunk (prima drunkta) will be silent-auctioned off at 415p so be there or be square. Also, be rich.
The lucky first dunker will go in at 430p, and it'll cost you $1 per ball (or $2 for three) to try and knock in that rich guy.
There's no cheap swill here: the tank'll be filled with just-brewed Lift Bridge Farm Girl Saison. And, as it's filled directly from the brewery vat, this might actually be the freshest beer you'll ever taste (minus the people swimming in it before you).
Before you even ask: yes, this is the first time this has ever been done in Minnesota. Yes, it was inspired by the movie Beerfest (actually, forget that part). And yes, they'll have a shower there for pre- and post-dunking, though, as for everything being a billion percent sanitary -- no promises.