Summit cocktails, plus next-level eats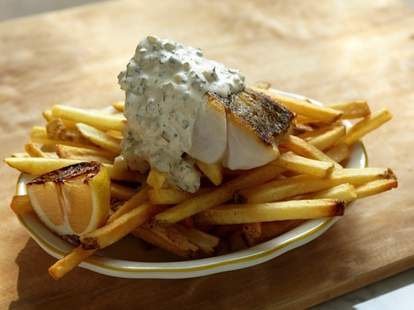 Because taking breaks Kurtis Blows, the cocktail creatives behind Summit Bar and some Motorino & BLT Fish vets created Prima, a brick-walled neighborhood noshery plating without pause from 8a 'til close. Pair your eats with a bottle pulled from prominent steel & glass wine cabinets, or a tipple poured at a marble bar outfitted with ironwork, which, outside of Zest Body Wash commercials, probably wasn't easy for him to come by.
Morning: Breakfast cravings are sated by assorted pastries and a coffee menu worked up by the owner of much-lauded Ninth St Espresso, who's included urn-brewed java, cold-infusion iced coffee, and espresso-based joints that boast 3x the normal bean count per shot, though given the bean count that math is probably shaky.
Evening: Highly focused, seasonal, and seafood-centric (only one red meat per day), dinner might begin with feta- and olive-topped octopus before moving to larger portions of pan-seared, Old Bay-seasoned Long Island hake, or local scallops w/ chimichurri & plancha-seared lemon, any of which can be sided with one of three sauces: Genovese pesto, buttermilk tartar, or the tomato-and-olive-oil Virgin, though housing buttermilk tartar in front of your date is more likely to keep you one.
Night: Come 5p the bar will start kicking out a mix of "riffs on classic American cocktails" and Med-influenced concoctions, from a gin/rosemary agave/pear joint topped with Prosecco and clove dust called the Last Cocktail, to the Mancini, a mix of bourbon, amaro, smoked cinnamon, and old fashioned bitters, which are bound to happen when your woman steps out with another man, and she runs off with him to Japan, and the IRS says they want to chat, and you can't explain why you claimed your cat, and...