More likely to shred your dignity than make you a dignitary, that most juniper-y of spirits has nonetheless made itself very at home at Gin Palace, a new offering from the Death & Co/ Dram guys occupying the bottom floor of their Cienfuegos complex. Blacking out you the exterior save for winged door handles and dual-bulb lanterns, a hauntingly steampunk Victorian vibe is cultivated via contrasting gold & black hues, tufted leather banquettes, a gear-inspired ceiling mural, lion pillars, and enough clocks you'd think you were hanging out at Chris Martin's place

The bar is fully stocked, but the cocktail menu's exclusively gin, starting with house originals like the tiki-esque Shangri-la Swizzle (Old Tom, amaro, pineapple, raspberry, and a small batch gin liqueur made from spicy local plums), and the lime/ pineapple/ grapefruit/ cinnamon Police and Thieves, which is sure to have some Sting

Classics on hand include Pimm's Cups, Corpse Reviver #2s, and a grapefruit-bitters-kicked G&T served on tap (the first of many tapped 'tails), while the Proletariat team helped curate a tidy beer list that includes Adnams Southwold Bitter and Anderson Valley Summer, which just like Sweet Valley will have you seeing double

And if you don't mind the lack of tables, feel free to take down Brit bites including "fried to perfection" fish and chips, and Guinness-stewed beef swaddled in pastry known as a pastie, which no longer just hides the final shred of a stripper's dignity.
Recommended Video
It's Worth Getting Sloppy For This Grilled Cheese Taco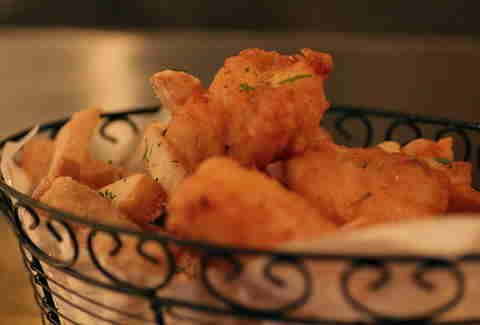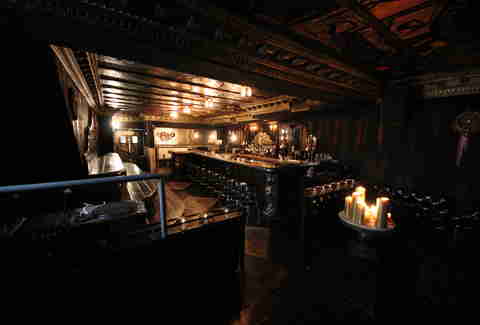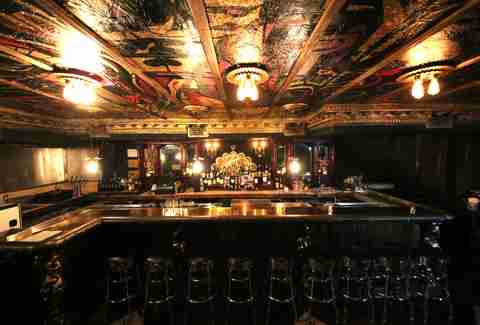 Previous Venue
Next Venue
Venue Description
1. Gin Palace
95 Ave A, New York, NY 10009
Gin Palace evokes steampunk Victoriana with gold and black hues, lion pillars, tufted leather banquettes, and endless amounts of hanging clocks. Sip on an array of (surprise!) gin-focused cocktails.