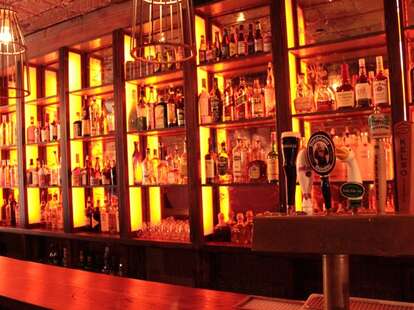 If you've been partying since the '80s, chances are you've got some significant wear and tear, which is why it's straight crazy that Corey Feldman looks so youthful and vibrant. For an '80s child able to admit it needed a complete facelift, drop by Sidewalk Cafe.
Originally opened in 1985, the home of the city's longest-running open mic night recently overhauled itself and's returned as a three-part party barn, blowing out the stage room to accommodate better views, dropping turquoise banquettes in the dining area, and filling out the bar with a large distressed mirror and cage-like fixtures, so they're totally awesome at acting all crazy, but also could probably go serious if the part called for it. With only two dishes left over from the original menu, new "homestyle" fare includes brown butter & sage croquettes, pulled pork ciabatta sandwiches topped w/ red cabbage & jicama slaw, and all-day breakfast including chorizo/queso fresco/cilantro on top of baked eggs, who obviously didn't pay any attention to that ad about your brain. Drinks've also been amped up, with a fresh beer list sporting drafts like Goose Island and Kelso, plus Sixpoint cans (Sweet Action, The Crisp…); there's also a selection of spiked milkshakes for getting fat cooling down, including a bitters-aided Bourbon Old Fashioned, and a mash of bourbon, bananas, PB & chocolate called the Monkey Business, which they could probably get down to even after having tons of them, as booze only makes you better at being the Senior VP of Hurling Your Own Poop.
Live acts will remain an indie-leaning mixed bag of everything from "Anti-Folk", to stand-up comedians, to Michigan's Drunken Barn Dance, which Corey Feldman can apparently do a million times over without showing the slightest sign of aging!