Ralph Waldo Emerson famously said "As a cure for worrying, work is better than whiskey." So, everyone who disagrees with that silly transcendentalist should leave work and start hanging out at Flatiron Room, a 500-bottle-strong great hall of distilled mash, which boasts a stage for nightly jazz, a library-esque storage balcony above a wall of personal lockers for any browns you buy not named Kevin Mack, and a balcony tasting room with a multimedia wall

While easy drinkers can grab a Glenkinchie or Macallan 10, you really come to this place for rare or just-released joints even Rip Torn hasn't not-remembered hearing about yet, including one of only 330 $4500 bottles of The John Walker, Glenfiddich's 18-years-in-the-works Malt Monster, and Ardbeg Galileo, a "special celebration" of the whiskey Ardbeg shot up to age in the International Space Station, along with whatever weird Russian dude's been up there for 17 years. Meanwhile, the cocktail selection's being similarly next-leveled by five-gallon white oak casks (all with a No. 4 char for maximum smokiness) that'll age pre-made cocktails for a prescribed amount of time, although, again, not as long as your average Russian citizen has spent in a space station.   And since studies by loser doctors insist you can't live on whiskey alone, they've got a collection of simple eats like oysters, charcuterie, and bone marrow, about which Emerson famously said "damn, this ish is like totally delicious, even if I know it's gonna make me feel like crap while writing a letter to that needy Walt Whitman tomorrow".
Previous Venue
Next Venue
Venue Description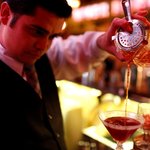 1. The Flatiron Room
37 W 26th St, New York, NY 10010
The Flatiron Room is a relaxed, sophisticated nightspot that supplies a collection of over 750 brown spirits. In addition to carefully crafted libations, patrons can also enjoy a number of small bites (such as oysters, charcuterie, and bone marrow), regular live jazz performances, and a rich, timeless atmosphere.