Expanding on their popular upstairs dining den, the DD's curved honeycomb-cushioned banquettes and matching hexagonal wall & ceiling panels call to mind a beehive for ballers, where bites of Asian beef skewers and BBQ spareribs will fortify against classically inspired 'tails including the Pretty Boy Floyd (Citron, mint, lemon, Angostura), and the Hendrick's/ St-Germain/ grapefruit & lime juices/ muddled cukes Tin Lizzy, not to be confused with a Thin Lizzy, as that's just Whiskey in the Jar.
Recommended Video
This Restaurant Blends Music & Food Into One Unique Experience
Previous Venue
Next Venue
Venue Description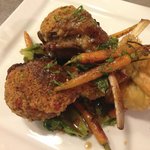 1. The Darby
244 W 14th St, New York, NY 10011
The Darby pays homage to the legendary Nell's space that used to occupy the building, with beaded fabric chandeliers, gold railings, and antique moldings. Every table looks up to the stage where guests can enjoy jazz, pop, soul, and funk performances nightly.