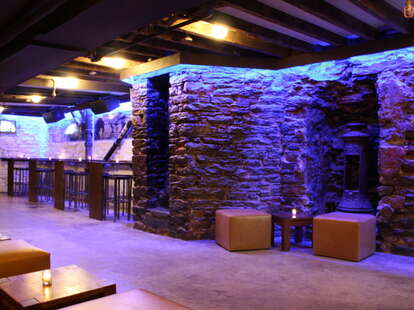 Learning the history of a spot almost always enriches your experience of it, unless it was a strip club, in which case you're already enbrokened. Boozily basking in NY history: 116.
Hidden below a nondescript water pipe store, this booze-flooded performance space from a squadron of nightlife, film, art & theater vets runs low-slung banquettes along rustic stone walls (sporting a recessed kissing nook!) like a glamor dungeon; the 116 MacDougal St digs formerly housed Gaslight/Scrap, and've hosted everyone from Bill Cosby and Bob Dylan to Slash and Sebastian Bach, making it a great place for Youth to go Wild. Staying true to its wide-ranging roots, an intimate stage up front will provide a place for creative types to "meet up, experiment, and collaborate", resulting in sets of acoustic rock, stand-up comedy, and even slam poetry, much better than jump shot poetry, which gets nothing but (son)nets. On top of classic Sidecars, Old Fashioneds, and Martinezes, the Balthazar alum in charge of 'tails will whip up seasonal offerings of mai tais, Bahars (vodka, muddled cukes, mint), and the signature house-infused chipotle tequila/Prunier Liqueur d'Orange/honey called the Gaslight, sure to help you burn through all of your midnight oil.
There's also a healthy selection of brews, and a smattering of TVs to keep you stimulated during non-performance times, something that would save you a lot of money if that time ever happened at a strip club.