This buzzy, dimly lit Mexican rathskeller gets its cantina vibe from blue & white tile floors and woven patterned ceilings, and specializes in pulques, traditional bevs made from fermented (not distilled) agave sap. Starting next week they're unleashing a full menu of eats including eight tacos (tilapia, cactus, pork confit...), tuna ceviche tostadas, and stuffed masa pockets known as Gorditas de Requeson O Papa Con Chorizo, because nothing's more delicious than cheese, chorizo, and OH MY GOD, DAD, NOOOOOO!!!
Recommended Video
This Bar Only Serves Asian-Inspired Vegan Pub Food
Previous Venue
Next Venue
Venue Description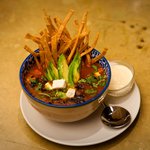 1. Pulqueria
11 Doyers St, New York, NY 10038
Pulqueria provides the authentic Mexican atmosphere with blue and white tile floors, woven patterned ceilings, and traditional beverages from fermented agave sap (pulques). Alongside the cocktails, feast on a full menu of eats including eight types of tacos, stuffed masa pockets, and tuna ceviche toastadas.