After a dry spell so long, even the Mets have won two World Series in the interim, Queens is getting its first brewery in over 50yrs: Singlecut Beersmiths, a musically-inspired (singlecut's a style of guitar body, duh) outfit focusing on serious, sometimes schizo brews. Here's what to expect: The Operation: They've got the capacity to produce ~30 barrels of beer/day (a barrel's a unit of measurement equaling two kegs... due to understandable Donkey Kong concerns, there're no actual barrels), thanks to three vertical fermentation tanks as well as two horizontal lagering tanks, a rarity in the US craft beer community that'll be creating "aggressive, flavorful lagers". The Beers: The flagship 19-33 Lagrrr! "challenges the perception of what a well-balanced brew can be", a series of IPAs range in strength from the sessionable 5% 18-Watt to the 8.6% Full Stack, and the Bob Sunburst Finish (named for Bob Stinson of the Replacements) is a hoppy ale/ lager combo with "secret spice", who got kicked out of the Girls because she was no fun, and hurt someone. The Tasting Room: Come Nov, it'll be outfitted with a stage for impromptu jam sessions that'll soundtrack your sampling of brewery-only pilot batches, including a collab with Queens Kickshaw that honors the the timeless tradition of Jews ordering Chinese food on Christmas because they're jealous of little kids getting Legos, by employing both matzo and Szechuan peppercorn in the brewing process. Rulpsen: It means Burp in German, it's their fermenting robot mascot, and he's quite the ladies man -- apparently he's been dating both fermenters and the keg-washing machine.
Recommended Video
This Mojito Hot Toddy Is the Destroyer of Colds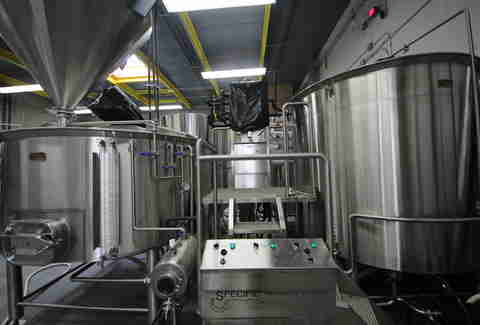 Previous Venue
Next Venue
Venue Description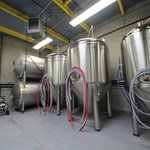 1. Singlecut Beersmiths
19-33 37th St, Astoria, NY 11105
Singlecut's a brewery that runs at ~30 barrels of beer/day, meaning there's lots of good beer to go around. The tasting room is outfitted with a stage for impromptu jam sessions and various small bites are available for you to get your nosh on.