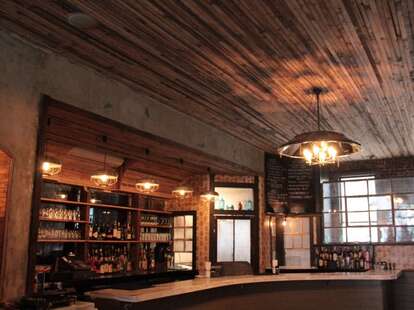 Moving from the Midwest to New York can be dicey -- some people strike it big, while others just strike out texting photos of their junk to cheerleaders. Ohhhh, in your face, Brett Favre! For a less licentious/more enticing Midwestern transplant, check out Burnside Brooklyn.
After noticing how many of their friends hailed from the region (and the perhaps-correlated groundswell of geographically themed events in their 'hood), the trio behind BB recruited the gosh-darned friendliest team they could find to help construct a back patio'd ode to their homeland, which ended up feeling like a rustic grandmother's house, assuming your grandmother's into curved wooden bars, shuffleboard, and lights sitting in cages (at least they can't judge you for constantly hanging in bars).
The menu'll be rolled out in stages, but expect a range of very unhealthy-sounding delights including chewy and gooey, State Fair-inspired fried Beecher's cheese curds, "Jucy Lucy" burgers w/ molten American cheese cores, Sheboygan brats & "fancy beer mustard", and an onion-dip-and-cheese tater tot casserole called the Hot Dish, also what you'll do with your "friends" after you see Miranda eating one. She said she was on a juice fast, that lying b*tch.
Like chicks at a Wisconsin frat party, the brews you'll be hooking up with are mostly "whatever they could get from the Midwest" (Beast, Leinenkugel Honey Weiss, Stevens Point Special Lager...), plus outliers like Kostritzer & 21st Amendment, and local craft joints from Brooklyn and Allagash.
They're also doing house cocktails, including, of course, a take on the Midwest fave Brandy Old Fashioned Sweet, the gin & green chartreuse Bijou, and a tequila Honeysuckle, also the exact text that went along with Brett's photo. Honeysuckle on that, Favre!