Just because two things are totally awesome doesn't mean they'll go well together, otherwise Charlie Sheen would have been totally cool on all of those drugs. Mashing up two awesomes and actually winning: Noorman's Kil

From a conglomerate of Barcade and Gutter alums whose day jobs range from acting to rock musicking, NK's pairing two undeniably awesome but often disparate forces -- whiskey (they've got more than 200 of 'em) and grilled cheese (they do not have more than 200 of 'em) -- in an OG saloon with bench- and mirror-lined walls, a bar pulled from an Amish candy store, and a library nook looking out over the back garden and filled with books on whiskey and Brooklyn history, which became far more intertwined after the Great Irish Famine. The globally sourced list of browns aspires to have mind-boggling depth while remaining accessible to enthusiasts of all levels, so pours of Bulleit, Maker's Mark, and Original Moonshine will sit side-by-side with Johnnie Blue, Macallan 21, and 2010 "Best Scotch in the World" Yamazaki 1984, which thankfully you no longer need Big Brother to get for you. Pressed right in front of you at the bar are seven kinds of grilled cheese, each named for an owner's mother, grandmother, or…cow, including sourdough Salona, w/ jalapeno jack, hot sauce, tomato, sour cream, and cilantro; the double-creme-brie-and-shrooms-on-ciabatta Maefred; and the Vernice, a ricotta/Nutella joint loaded with preserves from Anarchy in a Jar, which, unlike the UK version, are designed to never go rotten

They've also got a nice selection of mostly American drafts (Chelsea, Captain Lawrence, Brooklyn), as well as 'tails like the Bishop (Scotch, vermouth, triple sec, OJ) and the Sambuca/ bourbon/ SoCo Spaghetti Western, an unlikely combination even if you think all three of them are The Good.
Recommended Video
Mini Chicken Pot Pies: Big Homestyle Flavor, Endearingly Tiny Portion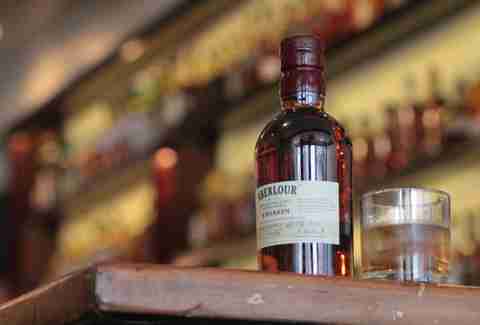 Previous Venue
Next Venue
Venue Description
1. Noorman's Kil
609 Grand St, New York, NY 11211
It's hard enough to do one thing well enough to stand above the crowd in the New York bar & restaurant scene, but Noorman's Kil distinguishes itself for being not only one of the best whiskey bars in NYC, but also one of the best stops for killer grilled cheese sandwiches. From some of the same people who brought you Barcade and Gutter, Noorman's Kil has more than 200 whiskeys, gooey grilled cheese, a wood saloon-style bar, and an awesome outdoor patio space that's perfect for sipping the deep-yet-accessible whiskey menu that NK sources from all over the world. You probably knew that you needed to try a range a whiskeys from the US, Canada, Ireland, and Scotland, but did you know that you also need to try some under-the-radar whiskeys from the likes of India and Sweden? You do now.