The city's first do-it-yourself brewery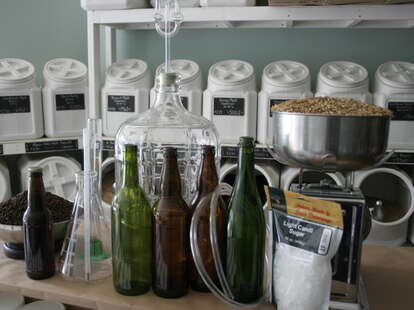 It sucks when a bar's beer list doesn't have exactly what you're looking for -- oh sure, they might say that Genny tastes like ass, but what if you want something that really captures that flavor? Letting you concoct and consume whatever you desire: Bitter & Esters.
Started by a couple of DIY boozers (one beer, one wine), B&E's a "brew on premises" joint turning homebrewing into home-away-from-homebrewing, allowing customers to craft their own suds on location while quadrupling as a classroom, equipment shop, and beer garden; ultimately they're hoping the space becomes a brewing think tank & "hacker's space", though hopefully the beers aren't Zero Cool. The deets:
Do-It-Kind-Of-Yourself: Three electric homebrew stations await you in the back. Whether you choose from one of their recipes or propose your own flavor profile, they'll work with you to whip it up, running you through the process and storing the end result to ferment for two weeks, after which you'll return to cap the bottles, which kind of suck at drinking games, what with their lack of arms.
Drink-It-Yourself: Enjoy the frosty fruits of your labor (or swindle other, better brewers to swap with you for theirs) in the back garden, where they soon plan on selling six packs of local craft suds, firing up a grill, and growing their own hops, though if Oliver Miller has taught us anything, it's that growing usually doesn't help your vert.
Do-It-Actually-Yourself: Up front's a shop stocked with everything you need to cook up heady suds (and soon wine), including fermenters, hydrometers, and carboys; around 60 different malts (beechwood smoked, rye from MA, etc.) and extract syrups; and flavor enhancers from star anise, to bitter orange peel, to Dark Candi Sugar, which has got to be a nickname for ass, right??