Tri-meat burgers & 2L growlers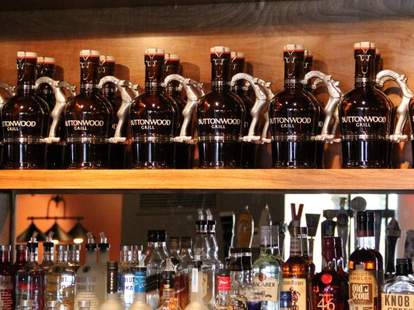 Sadly not a tasteful pornographic film starring Bob Vila, Buttonwood's instead a boozy, three-mealing Buxco retreat in Peddler's Village, with a spacious interior featuring lodge-y, fireplace-equipped dining to the left; a breezy two floors of window-lit noshing to the right; and a massive, repurposed-wood beer bar in the center that's lined with growlers and anchored by a tower of craft taps.
Jaw-stretching lunchtime eats include stone-fired pizzas and half-pound short rib/shoulder/brisket burgers (e.g. the Southwest Border w/ queso fresco, poblanos & chipotle-lime ranch), while dinnertime's anchored by a made-to-order fish deal in which you pick from three daily offerings and four cooking methods, then choose your sauce & your starch, in case you prefer your salmon's collar to be extra stiff.
Meanwhile, the taps're pouring everything from high-grav pints of Delirium Tremens and Southampton's Grand Cru, to session beers like their own Buttonwood Grill Lager (which you can take home in 2L growlers), plus there're 55 bottles and seasonally changing 'tails, and martinis spiked with everything from pickled okra to chocolate truffle, which, if shuffled too much, could make you Chunk.
Hit them early enough, and you can grab some cinnamon-custard-dipped French toast for breakfast, and come warmer weather there'll be seating outdoors, ensuring plenty of other places for Bob Vila to put his butt on.