Jersey's Little Philly gets tons more beer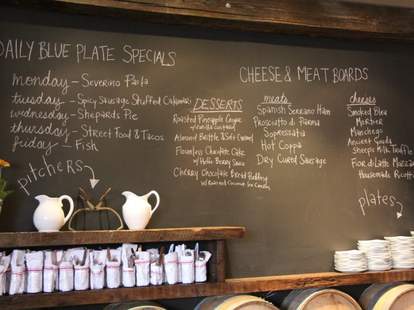 Combining two one of your favorite things in life, Keg & Kitchen's a new house of beer set up just over the Betsy Ross in Haddon Twp's old Cork space, marrying a Pub & Kitchen vet's local-ingredient-packed Celtic entrees with 75 bottles & 17 micro-rich taps, all served in a raw-but-refined interior that looks sorta like an upscale woodshed.
Irish-y edibles get going with hickory-smoked-mayo-slathered asparagus fries & spice-crusted Amish pretzels, daily charcuterie & jars of house-cured pickles, and plates of everything from 6hr short rib bolognese, to their take on pork & beans -- a white legume cassoulet topped with a fat German brat, which you can have just as soon as the Oompa Loompas get the little bastard outta that tube.
And because there's no "I" in beer, there's a squad of domestics (Stone's Smoked Porter, Troeg's Troegenator) plus multiple colors of Chimay, while the taps host locals including Victory's HopDevil and Sly Fox's Pikeland Pils, plus Euro jobs including Delirium Tremens, Weihenstephaner, and Hoegaarden, aka where Ludacris shops for bushes and bush.
Further down the drinking line, K&K has a well-stocked bar slinging classics like Sidecars and Pimm's Cups, and come this weekend they're dropping brunch, a meal that would qualify as another one of your favorite things in life, provided, of course, there're tons of (k)eggs.