The Bards has long been a place to grab an Irish lunch, and more importantly, Emerald Isle brews like Caffrey's & Murphy's, but now they've combined their mid-morning hours and extra-spacious tables (perfect for covering with important documents which can be used as coasters for beers like Caffrey's & Murphy's) with completely free WiFi, finally letting you level up in W.O.W. watch cat videos do, like, work and stuff.
Previous Venue
Next Venue
Venue Description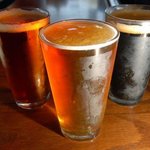 1. The Bards
2013 Walnut St, Philadelphia, PA 19103 (Rittenhouse)
Come here for authentic Irish brew, food and of course for warm Irish hospitality. The atmosphere here is casual and lively but not dive-y or too loud, so that you can enjoy a pint of Guinness without the large crowds or rowdy drunk people that typically come with Irish bars.