Surprise!: It's not really a laundromat.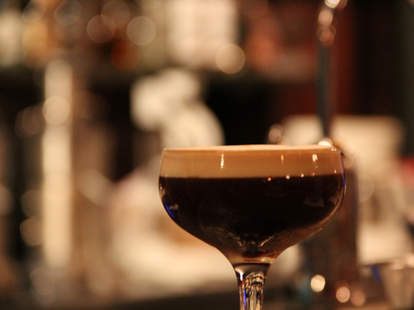 From an OCD dude who traveled to every state in the Union (plus Mississippi) researching cocktails, Hop Sing Laundromat's a semi-private, Chinatown cocktail bar, whose discreet, Race St confines conceal a library of booze so exquisitely large, it not only has a custom ladder but it needs its own catalog system (the... Dewar's Decimal System?). Here's what you need to know
The Space: The unmarked entryway (look for the door with the black gate and stainless buzzer) leads you into a penny-floored waiting lobby lined with old opera-house seating, a (functioning) full-service shoeshine station, and a ton of books. Once a seat opens up, you'll be led inside to the blood-red bar room with intentionally wine-stained floors; a mish-mash of spaced-out, privacy-inducing seating; and recycled church lights that're accentuated with crosses, for Chrissakes
The Booze: The wall-dominating "most expensive well in the world" somehow won't make you pour (!) despite touting more than 1000 bottles, ranging from super-luxe Johnny Drum Private Stock bourbons and Cold River vodkas, to 15yr-aged El Dorado rum and otherwise-not-seen-in-Philly hooch like Ambler gins. The cocktails, using heavy liquor pours and no sugary mixers or syrups, include the double-gin/double-vermouth "4:31PM"; the squeezed-in-front-of-you grape juice & 6yr barrel-aged white rum "Henry Box Brown"; and the coffee/Ambler/cream "Nevermore", which'll definitely have you ravin'
Until July, Hop Sing's in weekend-only, soft-open mode, meaning every drink's $10 and they'll only take cash, so leave your credit card catalog at home.