Dress up by dropping trou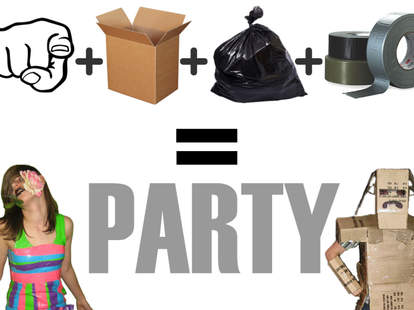 Apparently all psyched after learning of this "alphabet", The Legendary Dobbs is hosting an ABC party (Anything But Clothes), at which you can preview their re-launched burger- & buffalo tot-stocked pub menu, and perhaps more importantly, sip on free hot chick-dispensed vodka cocktails from 10-midnight while your non-outfit outfit puts you in the running for a $250 prize. So you don't waste time "thinking", here're some hot clothes-less costume concepts:
Eagles O-LineWhat You'll Need: Garbage bags, empty condom box Use the bags (or towel, or whatever) for state law-required non-nudity (can't show your no-no parts), then stick the empty condom box on your chest, assuring that you, like the Birds' boys in the trenches, will offer zero protection.
The Dog WhispererWhat You'll Need: Paper towels, pack of Milano cookies, stuffed dog Get your pack leader on by rolling yourself in a paper towel toga worthy of Caesar, then walk around with the Milanos (with the "o" crossed out) and stuffed dog, while jabbing people in the neck and hissing.
The Golden GirlsWhat You'll Need: Four old boxes. Hey now! Acquire boxes, attach boxes. Make sure they're old.
Leeloo DallasWhat You'll Need: Lots of gauze, a lack of pride Use gauze to create the white linen, barely-an-outfit outfit Milla Jovovich wore when she first showed up in The Fifth Element (bonus points for taping a lot of bus passes together into a "multi" one). Just don't go showing your Ruby Rhod in the process.