A cocktail-loving couple ups your tailgating game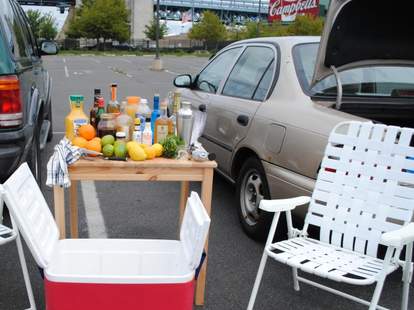 In an attempt to elevate tailgates above cheap booze cloaked in soda, and beers chosen because of Keith Stone's undeniable sex appeal, the cocktail-blogging couple behind Home Speakeasy was nice enough to outline an easily compiled, sub-$200 cocktailing bar setup that fits in a cooler, even though Swayze only drank coffee at the Double Deuce.
The Kit: Pad your fifths of gin, whiskey, rum, and Rhuby, with triple sec, sweet vermouth, simple syrup, and seltzer, plus angostura and orange bitters. That leaves plenty of cooler room for fruit juices, fresh citrus/mint, and assorted bar tools, though how they're able to stay in a cooler without ruining their suede Top-Siders is a mystery.
The Drinks: While the parts are there to mix everything from a Gin Rickey to a mojito, the HS crew's provided more inventive recipes like the bourbon/Rhuby/lemon juice/simple syrup Rhubicon, the obviously rummed-up Two Street Tiki, and the gin/Rhuby/lemon/syrup PHL Collins, which will eventually lead you to believe there's also no shirt required.
The Tips: 1) Pre-made juices have preservatives, which alter flavor, so go fresh. 2) Sandwich-bag your own ice and use cold packs for chilling the cooler to avoid sullying your drink chillage. 3) Make your own simple syrup (it's, well, simple: 1.5 parts sugar to 1 part boiling water. 4) Grab some plastic Champagne cups to fancy things up. 5) Finally, get durable barware, and don't forget a knife, even though Dalton won't let you bring it inside.