The '80s are back. So are the '90s. Now dance.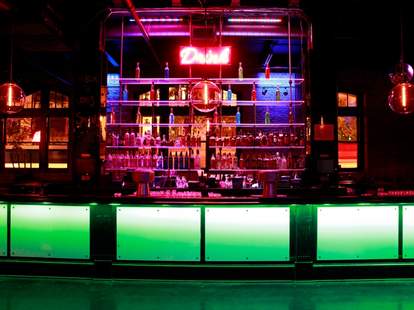 Whether you're a Moon Booted Electric Boogaloo-er, a shoegazing flannel enthusiast, or actually MC Hammer, you need to hit Old Town club Jones: a neon-lit 80s/90s explosion delivering all-night, DJ-fueled dance insanity, plus another Portland staple: artisan breakfast eats, served until at least 6a on weekends
What to expect when you get all Huey Lewis and go Back in Time
Breakin': The joint's divided into three zones (plus an an alley patio), including a dance floor for ill-advised headspins, a Champagne bottle service VIP zone, and a big-ass dining area/secondary bar. The not-secondary bar looks like a cross between a Miami Vice hangout and a watering hole for Replicants, while the walls are covered in Garbage Pail Kids collages/ framed ALF photos, and cassette tapes are piled into giant orb lights
Breakin' Fasts: Amped up by the dude who conceived French-fry-stuffed Big-Ass Sandwiches, morning standards will hopefully be served all the way 'til noon before long, and include cured meats that'd have Robert Smith feeling just like heaven (brisket, bacon, housemade sausage), marinated chicken fried steak, and an NY strip & eggs so legit, you won't be able to quit eating them, even if you got Hammered by the IRS and lost all your money, racehorses, and DeLoreans.