The best house-turned-bar, like, ever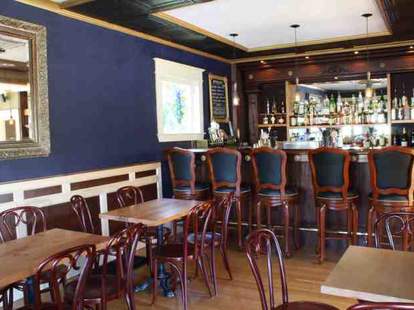 Signless and tucked away in a quiet residential neighborhood just off NE MLK, Beech St. Parlor is the brand-new jam from the sisters behind Tiga (and one's engineer husband), who've turned an unassuming 1906 house into a surprising speakeasy-ish bar with Victorian élan, infused-booze cocktails, midwestern-inspired food, and DJs every night, so expect those last two to produce a bunch of Hot Chip-ed beef dip. Everything you need to know:
The House: Marked only by its number and a two-tiered front porch with intimate seating beneath thin, gilded Ionian columns, the front door opens to reveal a DJ booth in the foyer facing a well-appointed parlor with an ornate Victorian couch, all overlooked by a formidable dark wood bar with a resined copper top burned to resemble knotted wood. Up a narrow stairway and above a ceiling decorated with hammered copper tiles, the second floor offers a large main table, plus two smaller parlors with intricate flocked wallpaper, which if you're smart, you'll likely flapper right over to. Because it's a speakeasy, and apparently you're a bird now.
Eats and Drinks: Built mainly for alcohol consumption, Beech boasts 12 taps and infused quaffables like a Manhattan made with cherry bourbon, a lime-rum and cola, or a margarita amped up with essence of jalapeno. Meanwhile, comfort bar food involves lamb riblets with cherry and chocolate sharing the bill with pierogies plated with beets and sour cream, a bacon sammy with some pickled egg awesomeness, and pork shoulder smoked in their driveway, which is best done shirtless if you feel like Coming on Strong.