Obscene things will be done to your mouth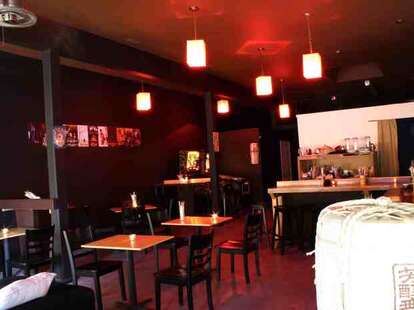 In an effort to make Union Jack's look like the Discovery Zone, the polarizing Japanese dive bar Tanuki has returned, now settling into Eastside digs that've added all manner of effed-up fun: pinball machines featuring boobs, dolphins, and angry lizards, a sitting lounge for the best views of Human Centipede screenings (no, seriously), and a tiger-striped bamboo bar where you'll nosh on 'Nuki's aggressive-drinking food, which can now also be paired with the hard stuff, somewhat explaining why the joint's named after a mythical Japanese creature with enormous testicles that doesn't respond to "Pat Morita".
The Booze: Insisting it's a bar, Tanuki augments its stellar rare sake collection with cocktails (the Dejima: a mix of Damrak gin, St. Germain, and rhubarb bitters aged for a week in cedar), a robust selection of rye, eight shochus, and every Japanese whiskey currently available in the state, including a Hibiki 12yr from Suntory, although it might be difficult to have relaxing times when the owner keeps demanding you bow to her pimp hand.
The Retail: Understanding that you can't watch animated hamster sex while eating pickled quail eggs w/ cinnamon tea sauce every night, 'Nuki's graciously rocking a retail section that'll let you take home not only a bottle of sake recommended by the resident expert, but also goods like intense kimchi pickles, slow-cooked brisket, 12hr sweet shredded pork belly, and sauces including their crazy-hot shochu mustard.
Of course, you can expect the same killer grub from the kitchen, best experienced by omakase-ing amazingness like hamachi with fresh soy, and "pork oil miso", all of which's delicious enough to make you a more-eata.