A bottle shop where beer and wine get along just fine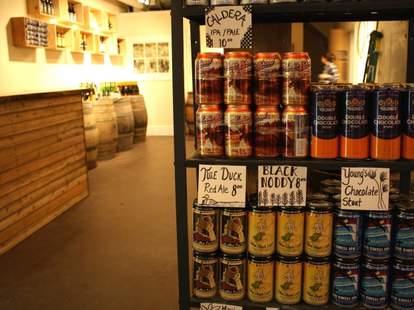 It's good to see Portland businesses expand, like the new New Season's location or Bishop's Barbershops popping up on every corner, but we're probably good with only two Pine State Biscuits, considering the whole Urban Growth Boundary thing. For a business expanding to bring you beautiful booze, get to The Hop and Vine's Bottle Shop.
From a lady who's been in the food 'n drink biz since she was a wee lass washing dishes, H&V's Bottle Shop's the culmination of a 2.5-year plan to open an Overlook Village joint equally dedicated to retailing beer and wine, now set in a former gallery space with moody lighting as "a little one-stop shop for all your booze needs", which makes one wonder why they didn't call it The Little Shop of Pourers. On the beer racks they're repping about 400 worldly and cellar-ready labels including imports like organic Belgian Saison Dupont Foret, upstart locals like Upright Brewing's dynamic Fatali Four with its pepper warmth, and legit collectors items like 2009's Anchor X-Mas, infused with lavender, nutmeg, cinnamon, and spices meant to age through bottle conditioning, also how Amy Winehouse gets in shape for triathlons. Hit the vine side for ~400 diverse varietals like Ransom's fruit-forward Cabernet Franc, Artisanal's 2006 Pinot Noir with tart cherry pie tones and a bit of heat, or the bright and clean strawberry-hued Rose from Trust -- fittingly named, as enough of it'll eventually lead you to fall, although hopefully not into your boss's arms.
Vine has big plans to double their selection, shooting for 1K each of both suds and vino, and they're bringing in the Willamette Wine Century Club and Oregon Beer Odyssey for educational tastings, so unlike the city of Portland, you don't have to remain dense.