Because you've always wanted to be on a tasting panel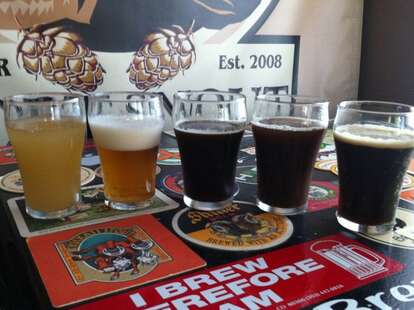 The hoppy brainchild of a gent whose 11yr brewing history began when his Team Quest-trained MMA-fighter wife told him she'd kick the crap out of him if he didn't make her some beer bought him a kit and some workshops, Short Snout Brewery is a Kickstarter project slated to become the area's newest, most pug-pimping microbrewery with just a little help from friends, and some very generous complete strangers. The pledge-inspiring awesomeness:
The Beers: In keeping with its mandate to go beyond traditional styles, Snout's already adept at creating unconventional awesomeness like an American wheat augmented with Riesling grape juices, and another rocking a blackberry/ sage black tea. Dude plans on producing two year-round brews distributed via keg to SE brewpubs (plus occasional limited-bottling runs) that could include a Cascadian dark ale or a hopped-up Amber, all of which'll be the result of a hefty dose of experimentation with "how flavors play together", which's usually by ignoring their video games and sporting equipment, and comparing huge neck-clocks.
The Perks: If you want a piece of the action, just pledge to get stuff like branded "Founding Member" swag including shirts and pint glasses, or be a true baller for real to net opportunities ranging from making flavor profile suggestions on Snout's ongoing tasting panel, to getting a future brew actually named after your pooch (with him/her on the artwork!), to being a brewer for a day and learning the process from bag of grain to finished product, also what this guy's wife calls the other lady not getting up from the mat.