Taking over the former Yogi's like they're Jay-Z in 2001, the crew behind Cardiff Beach Bar followed a different kind of Blueprint to spruce up the meandering joint, with a new coat of paint, a Tower 13 mural by the refreshed bar, signs repping local surf spots, and, if they have it their way, an "older crowd than Yogi's", so... find another hang, seniors at San Dieguito High! The snarky (though fresh! And seasonal!) food menu kicks off with starters like Shrimp with a Limp (sugar cane-skewered shrimp w/ sweet & spicy apricot sauce & spicy cucumber salad), chicken wings 10 ways (including FIREHOLE!), and a "big bowl of mussels" dubbed Arnold's Secret, which Maria Shriver is reportedly still struggling to swallow. The spot's real belly fillers include a few outliers like an ancho-chile-glazed, 10oz New York strip with a fully loaded baked potato, but primarily stick to handhelds like the Tower 13 Po' Boy with your choice of hand-breaded shrimp, calamari or oyster, plus 10 burgers including the applewood-smoked bacon & whole grain mustard aioli-topped Bacon Boy, who Louie Anderson has tried to adopt upwards of 60 times. Because your whistle is boring when it's not wet, they've stepped up the beer game with 24 taps (reserving 10 for locals), and're mixing up 12 specialty cocktails like the Buffalo Trace/ muddled strawberry/ lemon/ ginger beer "Holy Buck", which should help when you're trying to rationalize why exactly you're talking to Supa Ugly chicks.
Recommended Video
This Lava Flow Rum Cocktail Won't Actually Burn You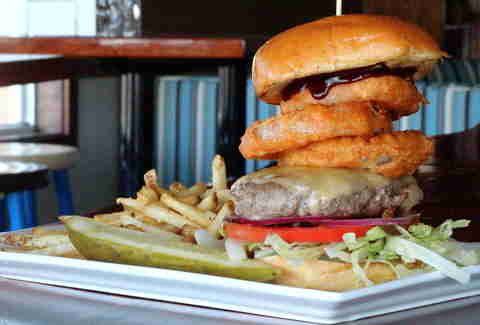 Previous Venue
Next Venue
Venue Description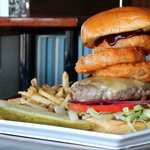 1. Cardiff Beach Bar at Tower 13
2633 S Coast Highway 101, Cardiff by the Sea, CA 92007
It's a beach bar. They infuse their own vodka. And there's outdoor seating. If you need more incentive, we can tell you the mushroom burger and garlic truffle fries are the perfect significant other to great draft options. Older Cardiff-women are also known to love this local spot for its live music and dancing...so uh...how 'bout it?