From a couple of ex-Stoners (also, they once worked at Stone Brewing Co), Offbeat is Escondido's newest brewery situated just across from the Stone offices in an airy, converted industrial space with paneled windows stretching to the 30ft ceiling, a massive floor-to-ceiling mural on the wall, plus a bar made of discarded palate wood, repurposed flooring, and even pieces of one of the employee's parents' water bed that, judging purely by his existence, was already accustomed to some nailing. ZING! They'll be opening their doors this Saturday to show off their shiny new digs, and serve up tastes of their first four masterpieces, which include: BearArms Brown: Not just what Charlton Heston's ghost whispers to the governor as he sleeps, this is also a brown ale with hints of coffee and "baking brownies" that was named following four pints at Sublime Alehouse. Caticorn IPA: This brew tops their bitterness chart at 90IBUs, has flavors of dried apricot, and will fill your nose with notes of "deep passion fruit", much better than "kind of faking it because you come from a wealthy family in La Jolla fruit". Barefoot Harem Theft Scotch Ale: An anagram of Offbeat and Mother Earth Brewing (who collab'd with them on the beer), this malty, 8.5 percenter's made with allspice and juniper berries. Girafficopter Golden Ale: Born out of the need to competently do construction on the place while still drinking, this 4.2% session ale's made with wheat and rolled oats, which were likely just normal oats before getting involved with a couple of known Stoners.
Recommended Video
The Definitive Eggnog Recipe You Need for the Holidays
Previous Venue
Next Venue
Venue Description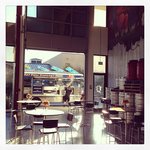 1. Offbeat Brewing Company
1223 Pacific Oaks Pl, Escondido, CA 92029
There are enough paneled windows stretching to the 30ft ceiling to remind you of what you're not missing outside -- the action's in Offbeat. Also, they have a Deer Grandpa Ale, which boasts deep, sensual hints of ripe fruit, chocolate and cherries. What? Yeah. Anyway, the tasting room is a pretty laid back place to mingle with friends, strangers and apparently (according to them) dogs and children. Sooooo laid back.