To celebrate the day people started saying sloppy and aggressive things to each other again, Prohibition has music from Bourbon Outfitters, as well as whiskey punch and discounted cocktails using Templeton, which was "Al Capone's whiskey of choice". So... yay!
Recommended Video
Slide Rock State Park has one of the best-kept secrets in Arizona
Previous Venue
Next Venue
Venue Description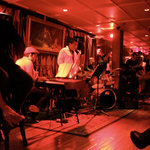 1. Prohibition
548 5th Ave , San Diego, CA 92101
This cocktail bar serves up classy, tasty creations like The Three Sirens, with Buffalo Trace bourbon, benedictine, maraschino, lemon juice, and cardamom bitters, and classy-in-name-only ones like The French Kiss: a shot of Fernet and a Bud heavy.