Goodbye Lincoln, hello drinkin'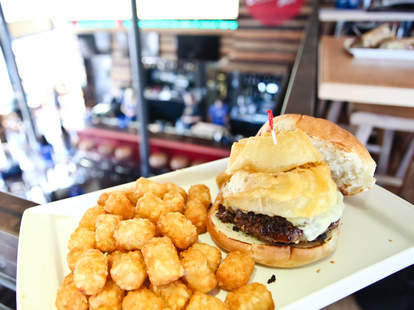 The duo behind the Commons has gotten rid of the space's former occupant -- the Lincoln Room -- quicker than a Confederate actor's pistol. They've replaced the Lincoln Logs with multi-shade paneling and the penny-topped bar with one made of cork, turned the second-floor mezzanine into a game area with shuffleboard, board games, and checkers/backgammon tabletops, and added more TVs above the bar, plus a huge scrolling sports ticker.
They aim to "raise the bar on bar food" (...but apparently not on humor!), with crazy starters like Dog Daze Nachos with chili/ cheese/ onion/ jalapeno on top of battered & fried hot dog slices, as well as 12 different kinds of wings including garlic-infused butter with grated Parmesan, Volcanic Honey Mustard, and a roasted habanero number called "Wicked Hot". Heavier stuff's mostly packed between bread, including infused-Angus burgers like the Bacon BBQ Bacon with chopped bacon mixed into a patty topped with more pig, The Danger Zone stuffed with diced jalapeno, cayenne & crushed red pepper, and a toasted rye 'wich with cheddar, American, Swiss, bacon & avo called the Cheesehead Transplant, so it's perfect if you're kind of a pound Packer (consider the bar on humor raised).
They'll keep the bar stocked with unusual crafts, and the 'tenders will be mixing up truly "Uncommon Cocktails" (mostly because they're served in a pint glass... in the Gaslamp) like the Brass Monkey with rum, spiced rum, OJ, and Ballast Point Pale Ale, plus a couple of signature shots like the Grey Goose/ Kahlua/ soda "Why Not?" (well, maybe because taking too many will render your pistol useless).