Brew retail/tasting haven pops up in Little Italy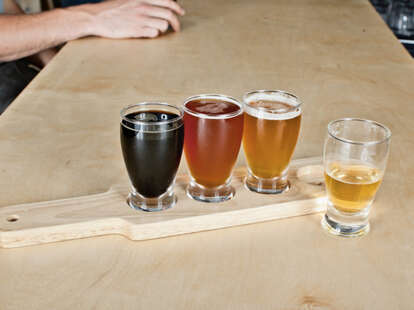 Shopping and drinking usually don't pair well together, as evidenced by those Pajama Jeans you're totally just wearing as a hilarious joke right now. Well at least they didn't, until Bottlecraft came around.
A one-of-a-kind hop-head paradise, Bottlecraft's a tasting room/ retail shop that offers up a range of brews so expansive Chuck Person would even be impressed; they're currently rocking over 350 varieties, which you can peruse, sample, and drink right at their birch-topped bar that's held up by an Oregon barn fence sourced from the very same corral as Aloha Sunday's, presumably to the chagrin of some now livestock-less farmer. Suds of interest from their lengthy collection include:
Unique Locals To broaden your tastebuds' appreciation, they're stocking rare collabs like the Green Flash/ Pizza Port/ Stone's Highway 78 Scotch Ale weighing in at 8.8% ABV; Green Flash's overseas Belgian Strong Ale (made with help from Belgium's Brasserie St. Feuillien); and tweaked barleywines like the 10.5 licorice-laced Belgo Anise Imperial Russian Stout brewed with Belgian yeast and oak chips, also the name of a short-lived spinoff TV series featuring Erik Estrada and Charles Oakley as motorcycle cops who accompany Michael Jordan on various trips to casinos.
Outsourced Gems Exquisite brews from outside of SD include Michigan's Jolly Pumpkin iO Saison with rose hips, petals, and hibiscus; BrewDog and Mikkeller's collab Divine Rebel barleywine (aged in Scotch barrels); and North Coast Brewing's bourbon barrel-aged, 12.5% ABV, vintage 2009 Old Stock Ale made with UK-imported East Kent Goldings hops and "Fuggles", which is presumably what the kids at Hogwarts call really ugly humans.
They're also offering at least two proprietor-inspired daily flights sorted at his fancy by brewery/ type/ season/ etc. and will soon start a delivery service, in case you're too lazy to get out of your pj's... even if they do look too good to keep hidden under the covers!