A gangsta's paradise in Little Italy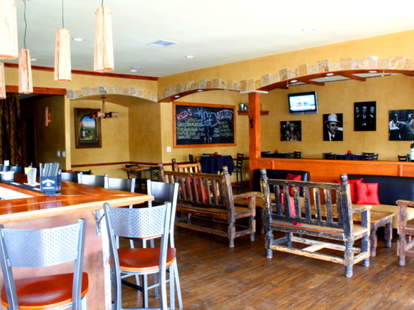 Only a few select cultures can effectively glorify their famous murderers, which is why Australia should just give up on putting stingrays in its aquariums. For a restaurant flaunting Italian-Americans' proven ability to make theirs cool: The North End.
The newest round in the Busalacchi family's clip of Italian eateries, The North End's a Mafia-themed cabin boasting gangster-related photos (from cops popping illegal hooch, to Al Capone's mug, to a scene from Goodfellas), rustically unfinished benches below stone arches, and sidewalk tables (placed amidst finely potted rose bushes) along Little Italy's main drag -- though sit on RuPauly Wallnuts at your own risk. To fortify your constitution, the menu's loaded with Italian-ish apps (from fried stuff like mozz & zucchini sticks, to more upscale seared ahi), plus mains like the Italian Sausage Burger with bell pepper/ onion/ marinara/ mozz, and the Sriracha mayo'd, grilled "Salmon BLT", begging the question: would their bacon cheeseburger be a "Beef Patty BLT"? To further the cause, they've got a floating Martini bar dolling out specialty 'tinis (from dry joints to pina coladas), while the main, wood-topped drink station's rocking a full complement of liquors, 30+ domestic & Italian wines, three taps hooked up to as many varieties of Strauss, and 12 bottled suds including Moretti and Little Italy Pale Ale, as opposed to Little Italy's Pale Al, who needs protection from Sunny's fieriness.
Ever so slightly stepping outside the bounds of traditional mafioso drink, they're also offering $1 Jello shooters, which are totally cool to glorify, despite them being well-established killers.