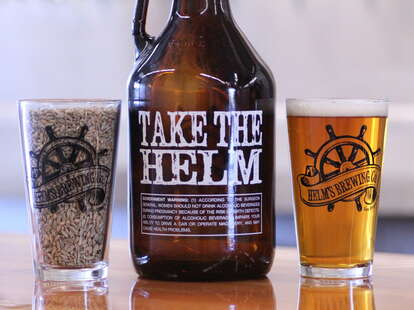 Ready to make you feel as invincible as the Middle Earth fortress it's definitely, maybe, fine, likely not named after, Helm's Brewing Co is the creation of a brave fellowship of four beer-loving friends who shared a vision of a neighborhood brewery "where everyone is welcome", except for Hobbits, but only because the Health Department requires shoes. So don some, and head in to get your hands on: Hop the RIPA: This "sterling example of excess" employs four malt/ six hop varieties to create a 7.4% ABV red India pale with an intensity that pairs well with spicy foods, pungent cheeses, and Kevin Garnett.
Beeruccino: Helm takes a malt-heavy porter and infuses it with black pepper, locally roasted coffee, and almond wood chips in a process the people of Middle Earth call "OMFG, they just boiled an Ent!"
Samuin Harvest: This seasonal beaut maintains a healthy 6.6% ABV and is chock-full of pumpkin meat, brown sugar, ginger, nutmeg & cinnamon, making it the perfect brew for when WINTER IS COMING! Oh wait, wrong dragon-based pop-culture reference.