Not to be confused with the swanky Rancho country club that a certain email newsletter editor is always "kindly asked to leave", Bridges is "a fresh take on the neighborhood bar and grill" featuring a stark, industrial dining room boasting a 40ft concrete bar that stretches all the way to its 1500sqft patio. The whole joint draws inspiration from, and pays homage to, San Francisco's eight bridges, while infuriatingly neglecting Nash (but don't worry, we won't). If Nash were to pull up here in Curious Yellow (aka his sweet-ass '71 Hemi 'cuda), he'd sidle right up to the concrete bar, call at least three people "Bubba", and get cracking on apps like grilled tri-tip skewers with summer squash, teardrop tomatoes & a ginger teriyaki glaze, or opt instead for the alliterative Bridges Bavarian beer battered onion rings. If whoever Cheech played were to pull up in, like, his mid-sized Kia, people would likely not notice, and he'd be forced to drown his sadness in the Bridges Western Bacon burger topped with habanero BBQ sauce/ provolone/ prosciutto/ onion rings, then follow it up with a Po' Boy stuffed with andouille, fried shrimp/calamari and a Cajun remoulade. Though they're apparently fine with burning the Nash variety, they never want to destroy their bridge to you, so they'll be keeping their 14 taps stocked with everything from Pabst to Stone Smoked Porter, plus honoring the city-of-fog with a list featuring creations from some of SF's finest drinkeries (Bank Exchange, Trader Vic's, Absinthe, etc.), including a Buffalo Trace/ ginger beer "Kentucky Buck" so potent, have more than one and you may lose the use of your Johnson.
Recommended Video
Thrillist Sips: Boro Brew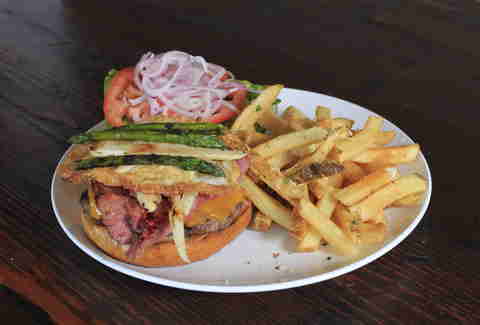 Previous Venue
Next Venue
Venue Description
1. Bridges
4800 Art St, San Diego, CA 92115
Besides their Friday night dress code (which is just code for "we're legit"), Bridges is a relatively laid back bar and grill. And there's enough room to show off your stuffy outfit - so take a waltz through 3,000 sq feet of indoor seating, or shimmy down the 40 ft bar. The joint pays homage to SF's bridges (hence the name...) and clearly also follows the city's theme of vibrant, fresh and authentic grub.