Because the folks at Clem's Bottle House & Deli are tired of you taking your just-purchased beers straight to their alleyway and risking imprisonment, they've decided to open up a tasting room just steps from their bottle emporium. They'll be serving up all of the goodness the deli has to offer alongside four regularly rotating flights of four brews, like an all-porter number (Green Flash Park West, Hangar 24 Chocolate, Black Diamond Peak XV Imperial, Port Brewing Old Viscosity) that's so strong, afterwards you'll likely take your nap straight to their alleyway and risk imprisonment.
Recommended Video
Behold the Waffled Spaghetti Burger in All Its Glory
Previous Venue
Next Venue
Venue Description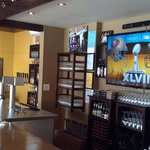 1. Clem's Tap House
4108 Adams Ave, San Diego, CA 92116
Clem's Bottle House & Deli just couldn't deal with the sandwich-brew combos flooding their alleyways, so they decided to do everyone a favor and just open a damn tasting room down the street (so casual). So now, you've got deli-deliciousness, four rotating types of brews and a lessened possibility of spending the night in the slammer for an open container.