No longer just a weird East Village non-profit that lets homeless people make kombucha, this Poor House Brewing Co's actually a new hidden gem in City Heights run by a locally born, still-working fireman who moved on from his post making suds at Firehouse Brewing to open up his own op in the former 30th St dispensary, but only after gutting the inside, as it likely smelled a little dank. Don't be alarmed by the butcher paper completely blocking out the windows, they are open, so step on past the hop vines hemming the entrance to check out the spartan, still-in-the-works interior featuring (for now) a modular bar-on-rollers, plus shuffleboard on one side and a pool table on the other, amidst a collection of wine and whiskey barrels they'll be using for aging. Though their first in-house beer has been delayed by their old-school, filter-less brewing method, they should be dropping their first IPA before the weekend, then following that up with a strong ale, a Belgian ale, and a Van Damme good Belgian white. In the meantime, they'll currently keep you floating with 13 drafts like Avery White Rascal and Stone's new limited-edition Imperial IPA, plus rare and limited bottles, currently including the likes of Lost Abbey Devotion and Ommegang Three Philosophers, all of whom are likely very familiar with the building's former tenant.
Recommended Video
Thrillist Sips: Boro Brew
Previous Venue
Next Venue
Venue Description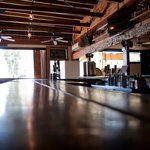 1. Poor House Brewing Company
4494 30th St, San Diego, CA 92116
The "pourers" are these pretty cool chicks who like to drink beer (like, a lot of beer), and they may encourage you to order something called a Poor House Panty Dropper Ale, which has a subtle 18.5% ABV. Poor House is North Park's first microbrewery and prides themselves on their hoppy IPA's -- so go ahead, pride yourself on your ability to drink a lot of them.