Biergarten is exactly what it sounds like: a magical garden where farmers lovably misspell everything and 40oz Red Dogs grow from large vines!! an authentic outdoor German beer garden -- courtesy of ze dudes behind Hayes Valley's boot-serving wunderkind Suppenkuche -- with zig-zagged Christmas tree lighting overhead, used Deutschland beer garden tables imported from South Germany, and two food-and-drink-serving shipping crates surrounded by a greenery'd chain-link fence with a massive Western Redcedar sliding door. Beers will be poured at the shipping container to your right -- there'll be six Germanic brews on tap which'll rotate (like Stiegl-Pils, Weihenstephan, Hofbrau's Oktoberfest, and Schneider-Weisse), all served by the liter and half-liter along with Augustiner Edelstoff, which's bottled, just like the trunk of Mel Gibson's car. Food will be made at the shipping container to your izquierda, including two bigger-than-at-Suppenkuche pretzel offerings from Firebrand in Emeryville, beet/potato/radish/kraut salads, a chive and lardo brown bread, bratwurst with Sauerkraut, and a charcuterie and butter sandwich served on a pretzel knot, or as those lovable farmers spell it, um...well, pretty much like that.
Recommended Video
Make This Apple Brandy Elderflower Sparkler for Your Next Fancy Party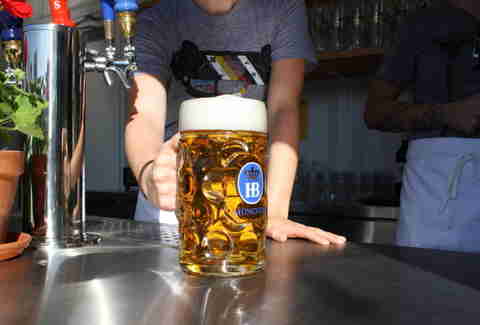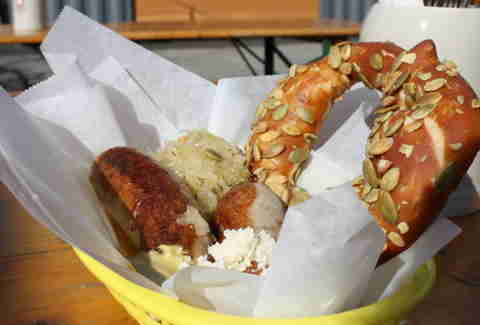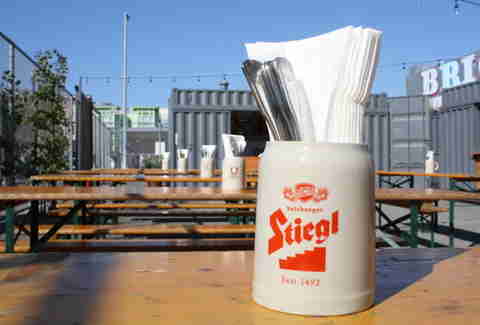 Previous Venue
Next Venue
Venue Description
1. Biergarten
424 Octavia St, San Francisco, CA 94102
With quintessential large mugs, sausages and sauerkraut, long picnic tables in the sun (hopefully), and a rotating selection of impressive German beers, Biergarten everything you want in, well, a beer garden. It's owned by the masterminds behind Suppenküche, so you know you can bank on them having a way with Teutonic suds and snacks. With no roof, it's not the ideal spot for a rainy day pint, but you'll be clamoring for a space come summertime.