Beer sausages & cocktails even Slobrushe would dig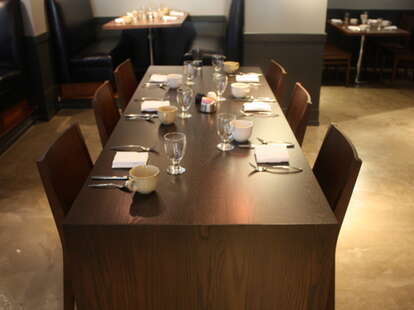 It's important -- no, essential -- that we remember those who came before us, unless of course you actually want to go on Maury. Remembering a city-shaping San Franciscan via booze and food, rather than paternity tests, Jasper's Corner Tap & Kitchen, opening tomorrow.
Named after surveying legend Jasper O'Farrell who coined mind-meltingly creative street monikers like Lombard, Chestnut, and Pine, Jasper's is a worth-purveying 137-seat mega-tavern with polished concrete floors, avant-garde 7X7-themed artwork, and a black leather booth-outfitted dining area equipped with a back room that's semi-private, which is the way you should keep most of your semi's. Upscale-ish pub eats range from snacks (ham and cheese fritters) and first bites (mini bleu cheese burgers on pretzel buns), to more satiating sandwiches (a pork belly grilled cheese with tomato & onion relish) and hot plates, like bangers n' mash done with a spicy Anchor Steam beer sausage that's housemade, just like pretty much every NBA playoff 3-pointer in 2008. The list of throat-pleasers is curated by the old Burritt Room bar manager and features 43 beers, flights of vino, beer cocktails including the bourbon n' wheat beer'd Wiesen Sour, boiler makers (like High Life/Templeton Rye), and signatures that include the Soda Jerk, a blanco tequila cocktail with Campari, lime, passion fruit, cream soda, egg white, and agave syrup that's vanilla-infused, so you know it'll rock...a mic like a vandal.
Oh and in the next week or so, they'll be adding SF's first on-tap Bols Genever behind the bar, which also happens to be right where you're headed upon finding out: YOU ARE NOT THE FATHER!!! Maaur-rryyy! Maaauu-rryy!!