From super secret speakeasy B&B, The Wilson is the bar's fourth password-required drinking room (joining Main Bar, Library, & Russell's) -- a noir-themed 22-seater set behind a fake Wilson & Wilson detective agency facade at 505 Jones St that you can only enter through a secret bathroom-adjacent backdoor at B&B with a reservation. It'll serve "investigative" cocktails made with the rarest B&B spirits and crazy tinctures/bitters (tobacco, sarsaparilla, etc.), a $30 three-cocktail prix fixe, and three boozy punches served in stainless steel, police-evading tea pots, presumably voiced by Angela Lansbury.
Recommended Video
The 'Game of Thrones' Pop-Up Bar Is Now Open in Washington, DC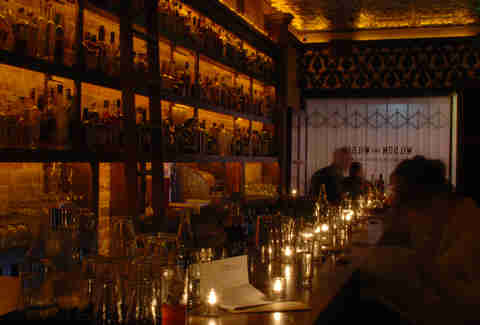 Previous Venue
Next Venue
Venue Description
1. Wilson & Wilson
501 Jones St, San Francisco, CA 94102
Wilson & Wilson is a speakeasy within another speakeasy (Bourbon & Branch), which may sound a little too complicated, but who cares because it's set in a (fictional) detective agency. That should be enough for you right there. But in case it's not, Wilson & Wilson is aesthetically fascinating (velvet-flocked wallpaper, antique glassware, and a drink list that's hidden in a case file), but even more important: the bartenders are making drinks you just can't find in any ol' secret bar. Order the tasting menu for the full experience. Just don't forget to make a reservation. It's the only way you're getting inside.