Martini carafes and half-naked acrobats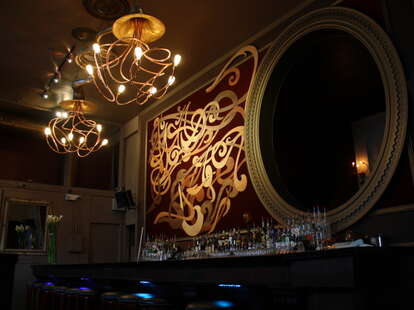 Posting up on the scenic, not-at-all-terrifying corner of 6th St and Mission, Monarch is a just-opened part-bar/part-club/part-sexy-circus, with two steampunk-ified floors sporting the chandelier offspring of a tuba and an Edison bulb, a topiary of copper pipes and magnifying glasses, and a giant hole in the wall where they'll have time-honored circus acts like the sexy trapeze artist and the sexy contortionist, so you'll actually take care of pitching that big tent.
Upstairs, a Victorian-furniture-filled lounge will grace you with signature 'tails like the Manhattan Project (rye, sweet vermouth, maraschino liqueur), the eleventy-jillion-ingrediented Rickshaw (which somehow includes shochu, gin, absinthe, and Lillet Blanc), and a Bulleit bourbon and ginger beer number served with a Fernet sidecar/ginger back that's dubbed The Kingmaker, aka Queen Elizabeth's hoo-ha.
Downstairs, their Dance Dance Revolutionary club boasts an almost criminally high-end imported sound system (one of only three like it in the States), a checkerboard black and white lounge area, a dance floor big enough for that Vogue routine you've been perfecting since third grade, and a bar made from concrete, so what was once in a mixer will now host them.
And because retrieving shopping carts on 6th'll make you thirsty, stop in after work for their "Tiny Tini's" happy hour, where you can pour things yourself after they hand you two miniature glasses and a cocktail-filled carafe -- not a pitcher though... they've learned their lesson.