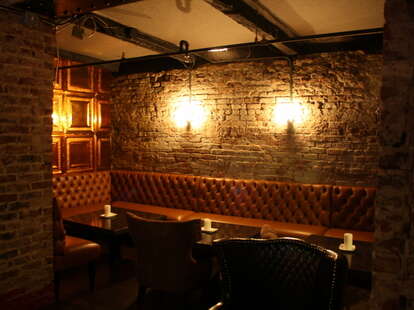 Tons of bars open in former speakeasy spaces these days, but very few retain authentic speakeasy style, what with the loud house music kids like these days often making speak quite difficult. For a lower-key, speakeasier spot in a former... speakeasy, check out Sofa.
True to its name, this underground Prohibition throwback is as comfortable as it is leathery, filling two candle-lit, brick-laden drinking dens with psychiatrist-worthy furnishings you'll be able to enjoy provided you can find the "unmarked alley entrance", which Ted Danson more than knows his way around. Not-actually-bootlegged liquors'll flow from the one-time secret drinkery's original bar from the '20s (which they've decked in vintage cast-iron radiators), including a cache of brown spirits, pitchers of cocktails, and $5.50 wells, enough of which will fittingly make Timmy fall down. They'll also sneak down food from Bossa Nova upstairs, including BBQ'd skewers of lamb tenderloin, top sirloin, and chicken (equipped with three saucing options), plus share-sies like dip-able deep-fried chicken croquettes and nut-crusted goat cheese w/ an onion jam, which you just know Tupac's not getting, cuz baby don't cry. But also, he's dead.
And lest things get too chill, they'll bring in live music on Sunday, and DJs Friday and Saturday, so maybe those nights, just go there and get housed?