Quit watching and Tweeting and Facebooking this awesome clip of a Thrillist editor dressed as Soda Popinski and head to the Mike Tyson's Punch-Out character's namesake bar for Game 2 tonight, where they'll be doing 2-for-1 drinks after the game and $10 bottles of champagne for 15 minutes after every Giants score.
Recommended Video
This Salted Caramel Chocolate Martini Makes Dessert Obsolete
Previous Venue
Next Venue
Venue Description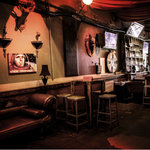 1. Soda Popinski
1548 California St, San Francisco, CA 94109
This Russian-themed bar off of Polk Street is great for a gang of friends who are into dive bars, red-lighting, and pickle back shots. Soda Popinski has old-school Mario games to play and a "Russian Roulette"-- which, for the price of a nice cocktail, you can spin to win drink deals or a glass boot filled with a Moscow Mule. The bar also offers guest bartending for fundraising events, where all tips go to your charity of choice.