Vaguely inspired by the Muppet band Dr. Teeth and the Electric Mayhem's eclectic weirdness, this new not-at-all-full-of-Muppets Mission bar from the dudes behind Bullitt incorporates said weirdness with mannequins with Medusa-esque light bulbs in place of the heads, X-rays of teeth, and old-timey dentist equipment behind the bar. To drink and eat, they're serving cocktails like The Mayhem (rye, brandy, Fernet, Peychaud's/orange bitters) and the Whiskey Breeze (rye, lemon, grapefruit and raspberry jam), offering Fernet and Jameson on tap, and slinging eats like a brunch-only fried chicken served with a jelly doughnut, and a waiver-required burger topped with a ghost pepper, but not "I'm ghost, Pepa" as that's just what Salt says every time she leaves the recording studio.
Previous Venue
Next Venue
Venue Description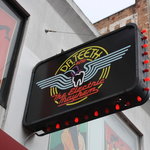 1. Dr. Teeth and the Electric Mayhem
2323 Mission St, San Francisco, CA 94110 (The Mission)
Although inspired by the famed Muppet band, this place is about as devoid of Muppets as you can get. What they do have, however, is cheap wings, liquor on tap and beers served in Mason jars. We think this more than makes up for a little Hensonless-ness.