Definitely where you want to go to find out whether that is or isn't Penny's boat, Portal is a brand-spanking-new American pub-cum-beer garden from a chef-trained former construction manager and the lady behind Rosamunde, and features an actual, porthole-equipped front door with two very distinct spaces beyond it.

There's 1) a 25-seat interior with a reclaimed wood-slatted back wall & a U-shaped bar filled with backlit pickling jars, and 2) an outdoor, glass-enclosed beer garden that's twice the size of the interior and equipped with picnic tables, umbrellas, and a view of Lake Merritt -- clearly a badge of honor for the space

Gourmet-style pub fare includes four mini burgers that come in twos with toppings like chevre and tomato aioli, "Garbage Bread" (grilled pesto-marinara pizza rolled like a burrito), and three different fry options: sweet potato (w/ a ginger aioli dipping sauce), herbed garlic, and smoked chili, or what T-Boz says whenever Rozonda Thomas's all "Yo T, how you like your salmon?"

And because you'll need a beer you can pour out for Left Eye/your homies, Portal's offering 10 bottles (Session Lager, Allagash Dubbel, Ommegang Hennepin...) and a constantly rotating draft list, which currently includes the likes of Eye of the Hawk Ale, Sierra Nevada Hoptimum, and Arrogant Bastard -- too many of which are sure to get you Lost and scared of Others.
Recommended Video
It's Worth Getting Sloppy For This Grilled Cheese Taco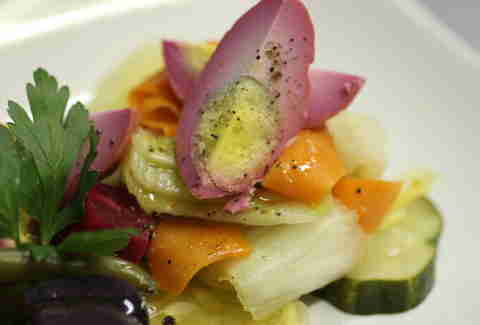 Previous Venue
Next Venue
Venue Description
1. Portal
1611 2nd Ave, Oakland, CA 94606
From a former construction manager who got some chef training on the side comes Portal, an American pub/beer garden out in Oakland. The menu is no-frills, offering up a variety of comfort food-esque dishes, like homemade pasta, pan seared salmon, beer-marinated chicken, and burger sliders. On top of that, Portal has an impressive beer menu (25 options!) and even does brunch.